Greetings,
On behalf of the Nobility It is with great pleasure I welcome you to our website of the Nobles of Ahmed Temple #37, A.E.A.O.N.M.S. As you navigate our website, I hope you find your visit informative.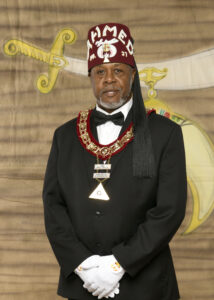 Chartered on August 22, 1956, Ahmed Temple #37 remains committed to making a positive impact and influencing change in the Oasis of Tallahassee, the Desert of Florida, and the Prince Hall Affiliated Shrine Domain. We take pride in being the charitable organization that we are and the services that we continually provide to our community.  Ahmed Temple #37 is the home of the Golden Fez and has won the Golden Fez each year it has been awarded, and it presently resides in the Oasis of Tallahassee FL.  Ahmed Temple #37 has continued to be among one of the leaders in Charitable Donations. The outstanding Nobles of Ahmed Temple #37 have unselfishly and consistently contributed to a multitude of charitable endeavors, resulting in millions, in cash, non-cash and in-kind donations to the charities and organizations we continue to partake in the honor of supporting.  The participation of our Nobles in the "Shriners As Mentors" (SAM) Program has made a difference in the lives of hundreds of youth in the Oasis of Tallahassee and surrounding Communities.  Ahmed Temple #37 membership continues to lead with significant impact and strong political voices for change (Congressman Al Lawson)  and social Justice voices for change (Attorney Benjamin Crump). Ahmed is a leader in Voter Education and Voter Registration programming in the communities we serve. 
Please enjoy the various links to obtain a full appreciation of Ahmed Temple #37 and our charitable endeavors.
Once again I am very glad to extend a warm welcome to you and if you have any questions or concerns please feel free to contact us
Respectfully,
Jarvis V. Rosier Sr.
Illustrious Potentate
Ahmed Temple #37